Hey everyone! I'm Sporty Boa here kicking off my new blog series, Top Ten Thursdays! I'm stoaked to once again be voicing my opinions on my favorite poptropica things, today, I'll be sharing with you awesome veiwers my Top Ten Coolest Poptropica creatures! But before I comense with the countdown, Just a quick notice: This is all my opinion, if you disagree with any of the choices I have listed, dont freak out, just tell me in the comments what you think should be in the place of that thing (I'll be cool with it).  If you do agree with my list however, great! (whispers* llllike it…) Also, if you don't understand what I mean by "coolest creatures" I basically mean creatures/ animals that have a cool design/ look or play a big part in the island and helping you beat it. Everything clear? Awesome, lets go!
NUMBER 10: DRYADS (TWISTED THICKET)
Well at number 10 we have the Dryad or more accurately, Dryads. These little… Creatures call the Twisted Thicket their home, they attack your poptropican in swarms almost as soon as you enter the dark woods and along the treetops, trying to lift (and sting) you away into oblivion. You must be considered lucky to escape them first try, or in my case, like six trys (True story these things almost made me quit the island!). But let's skip by the fact that they're so annoying and just get the chance to look at them. They're actually quite beautiful and majestic through my eyes.
NUMBER 9: NOKKEN (TWISTED THICKET)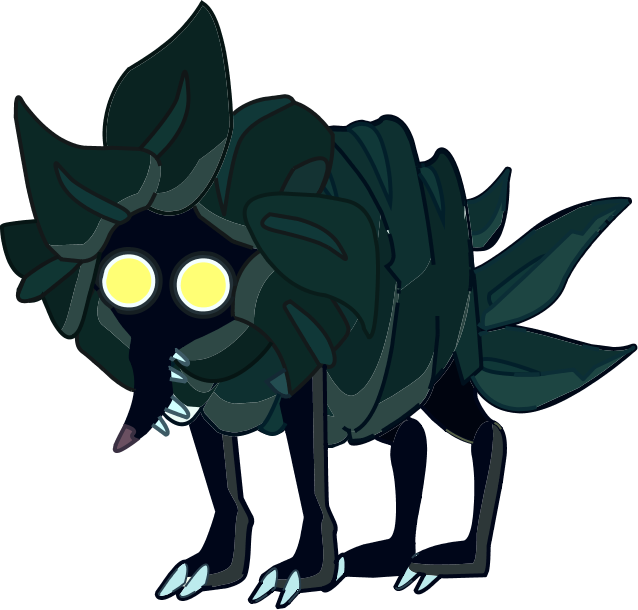 Oh my goodness… I could go on and on about how scary the Nøkken truely is, but I'll save it for another list. It's the remarkable invisible ability and unique apperance of the Nøkken that is the reason that it has made my coolest creatures list.
NUMBER 8: NESSIE (CRYPTIDS)
The infamous Lock Ness Monster makes an apperance on my list as the eighth coolest creature, and why you may ask? The build- up to finding this mysterious plesiosaur was intense and It all paid off when your poptropican blows into that special flute and Nessie herself arises from the depths of the Lock Ness. She may not look all that appealing, but Nessie strikes me as a personal treasure in the game.
NUMBER 7: GOBLIN SHARK (MISSION ATLANTIS)
IRL, I myself find sharks as fascinating and mysterious creatures of the sea, others may not agree, and see them as scary, monsterous or even blood- thirsty. Poptropica must of used the second choice when they created the goblin shark in the game because it tries to attack you, but once again I look past that. Goblin Sharks and sharks in general are awesome to me, therefore, this is a very personal choice on my list.
NUMBER 6: SPACE SHARKS (ASTRO KNIGHTS)
What did I tell you? Sharks are cool! But this time, you might actually agree with me on this one. The Space Sharks that gaurd the Ice Planet in Astro Knights Island may be enemys, but they're AWESOME enemys! First off, they aren't just normal space sharks, (Random guy: NORMAL space sharks?! SB: You know what I mean!) they are ROBOTIC space sharks that are also like invincible! (It takes a black hole to defeat them, not lasers!) And as the title states, Space Sharks are considered cool, but not the coolest.
NUMBER 5: PEGASUS UNICORN (ASTRO KNIGHTS) 
Alright, down to my top five! And what a creature the Pegasus unicorn is… I gave you a second to bask in the beautiful design, but now lets talk about what makes it so amazing. Not only is the pegasus unicorn's design glorious, but it plays a huge role in down the Mother Pheonix, in which was a pretty difficult boss. Weilding the Laser Lance and riding your noble steed, You stop the Pheonix, save the knight Sir Cador, and continue on your quest.
NUMBER 4: ELMER (WILD WEST)
Meet Elmer, the horse. Although hard to tame at first, he becomes your best friend, helping you get places hard to reach by foot and deliver the letter to Marshall Taylor. Also Elmer is loved by most poptropicans including myself, he's really fun to ride and play with, so I hope Wild west island isn't the end of the road for my pal, Elmer.
NUMBER 3: LITTLE EDDIE (NIGHT WATCH)
Ah, Little Eddie. Congrats buddy, you've made my top three! Wait, you don't remember Lil Eddie the mischievous Coral snake that drove you nuts in Night Watch Island, stole your scooter, and then at the end proving himself useful by slaming into Preston Wilhelm, the island's antagonist? Oh wait, now you remember? Well remember this, he's my definition of a cool creature.
NUMBER 2: SHADOW WOLVES (VAMPIRES CURSE)
I'm going to keep this short. The shadow wolves on Vampire's Curse island have to be the coolest designed and animated animals in poptropica. (My opinion)
AND NUMBER 1: THE WHITE WHALE (S.O.S)
The White Whale is number one on my list for very personal reasons and once I explain maybe you'll agree with me. First off if you don't know me so well, I'm a huge animal lover, Not just pets, but all animals, (maybe not insects) especially whales. S.O.S. island is one of my favorites as it's basically a refrence to 'Moby Dick' by Herman Melville, one of my favorite novels. Once you arrive on the island, you are greeted by Captain Boomer, who tells you of his quest to hunt down the white whale in which he hated so much. At one point in the past the whale accidentally hit the S.S Pequod, and the stubborn Captain was so infuriated that the whale bested him so he  had stopped steering the ship all together, resulting in the crashing into an iceburg. Captain Boomer then lied about crashing into the iceburg and said the White whale did it because he was ashamed, he reveals all of this to you near the end when he and your poptropican have no hope of surfacing and are awaiting your doom. Knowing this knowledge, you are convinced that maybe Boomer was wrong about the whale and use your whale call device you recieved from a survivor you saved named Ishmael (special thanks to Ismael!) and hope for the best. The White Whale hears! And breaks through the glass saving you and the captain's life! He swims away into the horizion, a hero.
Well that's my Top Ten Coolest Creatures in Poptropica list! Tune in next Thursday on the Sporty Boa Blog for a new countdown list! Have and amazing day, Boa out!