Heyo Amigos! It's the Boa of Sportiness here FINALLY bringing you a Top 10 Post!! What took so long? *Checks list of excuses* Hang on a sec… *Mumbles* Hurricane…? Nah, already did that one… Aliens?? The heck? *Sighs and puts away paper* I guess I was just lazy then. Anyways, TTT (Top Ten Thursdays) has returned and this Thursday's theme is, Poptropican NPCs I'd be friends with! When it comes friends, I'm pretty cautious, I've had my fair share of bad and deceiving comrades, (Why Director D? Wai?!) So This list took me a while to create. Remember this is all just ya boi's opinion, so don't judge me! Also, there may be Spoilers. Enjoy my friends!
NUMBER 10: SLIM SLAM (Reality TV Island)
Reality TV is one of my all-time favorite islands in Poptropica, and it was a blast to play or even watch someone else play!
( SB: Not to brag, but my brother's like a 14- time champion,
Random Guy: What about you, Sporty?
SB: I… Don't… Remember?
RG: Sure you don't. )
One of many things I love about the island are the contestants, or in your case, competitors. Why would I want to be friends with a rival? Because Slim Slam is cool, that's why. I'd love to play hoops with him one day!
NUMBER 9: CHARLIE/ WHISKERS ( 24 Carrot Island )
Let me clear up any confusion you may have; My cat Rusty needs a friend, and it looks like does Charlie too. Working at and old tools and carrot surplus shop sounds kinda boring… You know what's not boring? Cats. Whiskers and I may've not started on the right foot, ( Judging by this rather embarrassing and perfectly-timed photo: )
but now since I've picked up a part time job at Charlie's I think were slowly becoming friends… Yep, I'm running low on creds… Tips?
Random Guy: "You could complete more islands, maybe quit being lazy…"
Sporty Boa: *Shakes tip jar*
RG: "Oh."
NUMBER 8: EDGAR (Monster Carnival Island)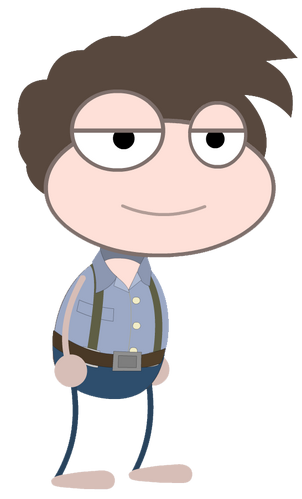 I know this may sound like a shocker, but at first I wasn't going to include lil' Edgar on this list. Probably because I mostly remember his mind- controlled state, strapping ya boi up to a chair and preparing to transform me into a Monster! On the other hand, he's a good kid inside and out, and just seeing him during the creepy nightmare which was Monster Carnival put me at ease.
NUMBER 7: STRANGE MAN (Counterfeit Island)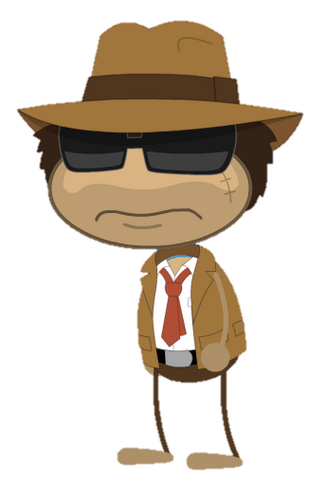 What?! How-? Huh?? That's probably what's going through your mind seeing the scarred face of the Strange man on this list. I'm have to agree and disagree with you. Agree that he probably should be on a list of NPCs I WOULDN'T be friends with judging from his unsettling and sinister actions in Counterfeit Island, But disagree because he changed. In the end, it was he who knocked out his former boss the Black Widow and proved he could be useful. To me, your Poptropican, and maybe even Poptropica itself.
It'd be nice to catch a glimpse of the Strange Man in the future, we'd make a great crime fighting duo!… But then again he's probably in the shadows somewhere.
NUMBER 6: SHARK BOY (Shark Tooth Island)
My Boy! I actually met him once, (So we're basically already friends!) he's a really chill guy who's just working to make a living at the Shark Museum. I'm a huge fan and really hope we become awesome shark- bros someday!
NUMBER 5: THE CREW (Skullduggery Island)
I mean why not? The crew you assemble to duel Captain Crawfish on Skullduggery Island are awesome! All equipped with special gifts and abilities, you guys make an epic team. Do you think after defeating Crawfish they'd just say 'bye' and sail back to what they were doing? Nah, I'd like to think we'd set sail through the Seven Seas, defeating sea monsters and preventing more evil enemy pirates from laying waste to the island.
NUMBER 4: ISHMAEL (S.O.S Island)
*Diggs in inventory satchel* "Yep, still have it," *Pulls out whale calling device and hugs it* "I'll never forget the time you saved my life… And I'll also never forget the guy who gave it to me, Ishmael."
This is my first time saying this but, if Ish was a person IRL, I think we might actually become buds! I mean, he's a little awkward, I'm a little awkward, he loves whales, I love whales, the list goes on and on! Oh wait… That's the end of the list. Maybe that's why Ishmael isn't numero Uno on this countdown post…
NUMBER 2: MAX McGULLICUTTY (Survival Island)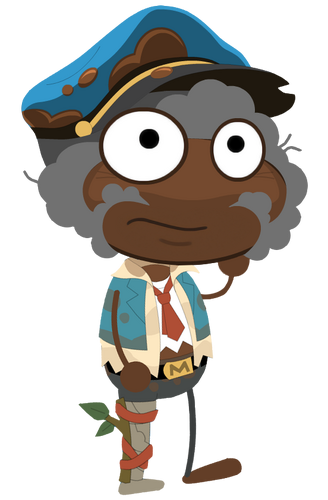 Max. McGullicutty. Former pilot turned underground survivor. He saved your poptropican's life from the clutches of that… Myron Van Buren, basically helps you stop M.V.B. once and for all, and flies you off into the sunset with that no-good hunter's OWN HELICOPTER! Need I say more?
NUMBER 2: HAROLD MEWS (Cryptids Island)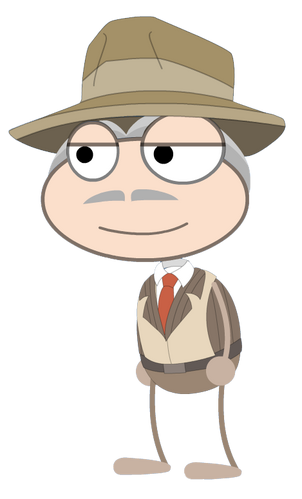 Ah, Mr. Harold S. Mews, ( The 'S' stands for Something… Idk) I love the guy. He's kind-hearted, compassionate, (Everything a rich person SHOULD be) and believes in me more than almost any NPC in the game! He's ranked so high on my list because were actually still friends to this day, I often drop by his mansion on Cryptids Island and check on Bigfoot, do some DNA studies, or just have a cup of tea! And Sometimes, Mews lets me take the chopper for a quick flight around the island! Coolest. Friend. Ever.
NUMBER 1: …
Before I reveal who no. 1 is, I want you to think of the perfect someone you'd be friends with. Someone with your interests…  With a similar personality… Got it? No, need more dots? Fine………
NUMBER 1: MY FUTURE SELF (Time Tangled Island)
Duh, Yourself! XD  I mean it may be an older version of yourself, but still! The stories and pure fun we could have are unlimited! *Sigh* U the best, Me.
That's the end of this really, really late Top 10 post, you'll be able to vote for the next theme tomorrow so stay tuned! Have an awesome rest of the week and I'll see you next time, Boa out!