Hey Poptropicans! Sporty Boa here with a (Bet you didn't expect this) Thursday Countdown post!!! It's been FOREVER since my last post and I feel bad for letting you peeps down… Which is why I'm making up for it! Expect surprise posts including Top 10s leading up to my Blog's birthday on the 24th, I have some pretty awesome stuff planned!
THE COLD
IRL, the cold irritates me, in other words I don't like it. Which is why I'm so grateful to be living in a warmer part of the world. However in Poptropica, I reside in a humble cabin on Survival island, which isn't exactly known for warm weather and sandy beaches… This got me thinking, "What is the coldest place I've ever been in Poptropica?" I forged this list together to ultimately reveal the answer… Enjoy! (Remember this list is just my opinion if you wish, you can list your version of a top 5 in the comments!)
NUMBER 5: THE HIMALAYAS (Cryptids Island)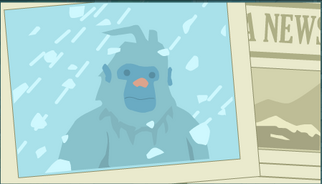 My pal the Yeti pretty much depicts my mood while climbing the abode of snow on Cryptids island, sheets of freezing snow and extremely dangerous winds collide to form a very difficult trek up the mountains. "Why is it so high on my list!?" you may be wondering, It's because after the treacherous climb with your awesome Sherpa, you discover a small civilization. People actually live up there! Not to mention they seem perfectly chill. (Puns!)
NUMBER 4: SURVIVAL ISLAND (Episode 1: Crash Landing)
Past SB might actually be right, The cold temperatures I encountered after crash-landing on Survival island were almost unbearable. (Bear pun actually not intended!) I literally had to keep moving or I'd freeze to death! Enough said.
NUMBER 3: CRASH SITE (S.O.S. Island)
Yeah… I would expect colliding with an iceberg in the northern Atlantic ocean to be an awful and frigid experience. I mean, you find the Pequod's chef fully encased in a block of ice for goodness sake! What doesn't give this the top spot is the fact that you can safely and calmly swim in the water without getting hypothermia (or freezing to death) … My only guess is… Pop logic?
NUMBER 2: MOUNT EVEREST (Time Tangled)
*Checks pocket watch*
"Right, these goggles match to this climber guy's so guess I'm headed there next,"
*Adjusts watch*
"Wait. MOUNT EVEREST?! STOP, DON'T TELEPORT-"
Being a prepared person, I definitely wasn't prepared to teleport immediately to the SUMMIT of the tallest peak on Earth, therefore it was one of the coldest places I've ever been… But not the coldest.
NUMBER 1: ICE PLANET (Astro Knights)
The answer is crystal clear: A planet floating in space made entirely of ICE? I have a feeling that is the coldest place ever… But I don't know that for sure… since I… *Mumbles* Haven't actually completed Astro Knights Island yet.
Well I hope you enjoyed today's Thursday countdown post! Remember to stay alert for more posts coming soon and I wish you all an awesome day, Boa out!