The island opens as your blimp arrives at the Sasquatch Sanctuary, a wildlife reserve in the Pacific northwest home to the infamous Bigfoot. Here you can explore the serene area, meeting up with other players in the "Sasquatch Souvenir Shop" common room and even catching a glimpse of the big guy himself near his cave behind protective viewing glass.
When you arrive at the bigfoot viewing area, you find a spiffy gentleman observing the cryptid.
Long time players will recognize this man as Herald Mews, and by interacting with him, newer players will learn about him and his love of crypitids as well as his passion for expanding the boundaries of science. This will lead to your Poptropican asking the last of three dialog options: "What's new in the world of discovery?"
"I'm glad you asked my friend, follow me!" After Mew's response he then runs off screen.
Following the him will lead you to the edge of the map where a high-tech helicopter, engines revving, sits atop a helipad facing the pacific coast. You spot Harold and an unknown scientist exchange a few words before they enter the chopper:
Scientist: "Are you sure about this sir?"
Harold Mews: "I sense in them a good spirit, a yearning for adventure! The more the merrier!"
You enter the rotorcraft to be greeted enthusiastically by Mews as he explains reports of a new ground-breaking discovery: A remote island of dinosaurs that have evaded extinction!
You can hardly believe your ears as Mews goes on about his mission: For you and a team of experts to go on an expedition to this mysterious island and bring back evidence of living dinosaurs. He then introduces you to his scientific associate as well as the rest of your team:
Dr. Alima – Expert paleontologist and paleobotanist; she is the go-to-gal for all things prehistoric!
Professor Pendulum – The inventor behind Time Tangled Island's time machine, he's more than ready for this blast to the past!
Dr. Lange – When making contact with prehistoric creatures, you may also make contact with prehistoric viruses. Thankfully Poptropica's top virus hunter is here to fight the unseen threats!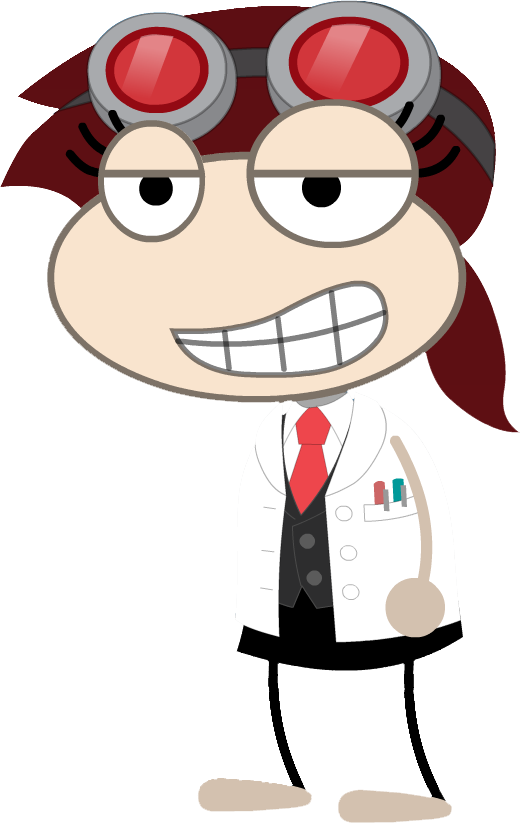 Professor Hammerhead – This 100-year old professor has vast experience discovering ancient islands as well as being stranded on them.
Shark Guy – Impressed by his knowledge of shark facts, Prof. Hammerhead took this chompy chap under his wing. As his protégé, Shark guy shakily prepares himself for what lies ahead!
After you've talked to everyone on board, you return to Harold. To your surprise, he won't be joining you on the expedition, bidding you and the team farewell, he states Dr. Alima will be in charge and once sufficient evidence has been collected, work can be done on declaring Dino Island a universally protected area. With the coordinates plugged in, Mews exits the chopper and the real journey begins.
~
The Mews helicopter lands on a clear coastal beach as you and team arrive on Dino island. Dr. Alima conducts the first order of business by assigning two groups to set up research sites on the isle:
Group 1: Research Site A
Location: Paleozoic plains
Members:
Dr. Lange
Professor Hammerhead
Shark Guy
Group 2: Research Site B
Location: Jurassic jungle
Members:
Dr. Alima
Professor Pendulum
Dr. Alima advises your poptropican to frequently visit both sites to provide any needed assistance before informing the teams that they will communicate via radios. She hands you one before the teams venture off screen, leaving you free to explore.
This early exploration allows you to pick up valuable items as well as learn about the amazing prehistoric life surrounding you. You can radio Dr. Alima if you come across a unique flower or friendly dinosaur to receive cool facts.
Items:
Radio – Given to you by Dr. Alima once you arrive on the island. Radio Icon will appear on screen for easy access
Action/ability: Call -You can select a scientist to call (If you radio without a reason they'll just respond "Sorry I'm busy")
Megalodon tooth – Found embedded in an elasmosaurus skeleton washed up on the beach.
Magnolia flower – Found in a blooming magnolia tree
Cycad Cone – Found lying near a giant cycad plant
Enter the nearest research site (Site A) to receive your first "exciting" assignment from Dr. Lange: Collect fecal samples from dinosaurs! In other words, gather dino-dung for non-invasive genetic and hormonal analysis. You're less thrilled about it than Lange as she excitedly hands you a dung-scooper. Once you exit to the plains, you can get to collecting!
Mini-game #1: Dino Dung Dig-up!
Objective: Collect dino-dung from all the different species! Remember where each species was so you don't collect repeats!
Skill: Memory
With your diverse collection of dung stored in the scooper, you return to Dr. Lange. You curiously ask about the purpose of the odd task and she states that the dung will be processed and hormones will be extracted revealing the dinos' stress levels. When you ask how, she walks you through the process in her lab.
(Side note: I used to work at an aquarium, fecal sampling was a method animal care takers used to assess the health and well-being of the marine mammals!)
While in Site A, you check in on Prof. Hammerhead and Shark Guy. Hammerhead has taken a liking to a baby dinosaur Shark guy found and keeps it in his quarters. You ask him if the mother is nearby and he distractedly deflects the question.
You receive your next important missions on Research site B after crossing the dangerous 'Dino desert'. Dr. Alima wants you to take photos of dinos while professor pendulum requests sediment samples to deduce the age of the island.
Items:
Drone – Given to you by Dr. Alima to take photographs of living dinosaurs from a distance
Sediment sampler – Provided by Prof. Pendulum to collect rock samples
Flashlight – Found on Professor Pendulum's desk
Mini-game #2: Primeval portraits!
Objective: Capture photographs of dinos using the drone!
Skills: Timing & Speed
At the far end of the island you find a rocky cave perfect for collecting Professor Pendulum's samples. Once inside, you must traverse deeper through the cave system to obtain samples from different layers of rock. At the lowest layer you come across a shocking discovery: ancient cave paintings along the cave walls with proof of Poptropican civilization alongside dinosaurs! When you return to Pendulum with the samples you tell him the news, to which he refers you to Professor Hammerhead, who has a device in his quarters capable of translating ancient texts.
~
However, when you arrive at Research Site A you come across a BIG problem: An angry Giganatosaurs mother has the scientists trapped in the facility! You quickly search your items and activate the photo drone in an attempt to distract her, but she smashes it, causing sparks from the damaged drone to ignite the area in flame! Now you have to save your team and the giant carnivore's baby before all is lost!
With communications and your path to the coast cut off, your only hope is to venture back into the Jurassic jungle, where if you search high in the treetops (You were unable to access this area before due to dense foliage), you'll find the hut of the Medicine man.
There's no time to explain! You ask the mysterious, masked herbalist for help and he surprisingly obliges, requesting a succulent from the Dino Desert, the cycad cone, magnolia flower, and your dung-scooper. He throws them all in his cauldron and produces a "cooling" potion that can be launched from the now reverse-engineered scooper! You hurry back to the smoldering Site A and shoot the potion at the chaos causing a miraculous blue burst of smoke. When the smoke is clear, the fire is put out and the Giganotosaurus has been put fast asleep.
Lange, Hammerhead, and Shark Guy escape the singed Research camp to your relief, but to your dismay, the baby dino is still trapped inside the wreckage! You tell the A-team to meet with the others at Site B before you rush into the ruins of the research facility. In professor hammerhead's quarters you collect the Ancient script translator and free the trapped baby giga from some debris. She follows you out of the collapsing base where you are greeted by a now-awake mother giga. Instead of swallowing you whole, she appears grateful as she and her baby saunter off.
Back at Research Site B, you regroup with the team. You sadly learn that Dr. Lange's research was lost in the fire, and with the scooper and drone malfunctioned, photographical, genetic and hormonal evidence can no longer be obtained. Shark guy blames himself for bringing the baby on site in the first place. Feeling sorry for him, you give him the Megalodon tooth to boost his spirits.
Dr. Alima asks how you were able to put out the fire, and you relay your story of acquiring a magic potion from a mysterious man in the trees to which everyone except Shark guy seem to disbelieve. However, the most unbelievable information is announced when Dr. A and Professor P. reveal why their radios were unresponsive: they were stolen.
Things may seem dim, but you still have a job to do and mysteries to solve. You journey back down the Archaic Cave system until you arrive at the ancient painting. The primeval art depicts masked figures surrounded by dinosaurs. With hammerhead's ancient script translator, you translate the following phrase: "Beware the masked man". Oddly, as soon as you finish reading this, the battery of your flashlight dies. You're left in pitch darkness. Suddenly, out of the black, multiple pairs of Eerie glowing eyes manifest themselves around you. There is a loud 'POW!' as your Poptropican is knocked out.
~
You awake in a large torchlit cavern. You are bound to a stalagmite and facing a campfire along with a very large pile of dinosaur bones and a collection items from various Poptropica islands (Insert a ton of Easter eggs here).
"Dinner's ready!"
A masked poptropican with a pegleg and torn clothing suddenly appears alongside two raptors.
"Please don't eat me!" your Poptropican exclaims to which the mysterious man laughs, "I was talking to you, silly!" He sets a plate of mystery meat in front of you and a raptor cuts you free. You store the rope in your inventory and question being tied up in the first place.
Cave Man: "Well I haven't had someone over for dinner in FORTY YEARS!"
Your Poptropican: "Who are you?"
Cave Man: "Call me Castaway, Caveman, Cave Collector, Busch Borrower, whatever floats your boat… You don't happen to have a boat by chance, DO YOU??"
Something about this guy seems off… you are allowed to explore his cavernous home, and find the stolen radios amidst his "collection". A raptor blocks the only exit so you must create a distraction. You place the mystery meat down and the hungry scavenger abandons post, allowing you to sneak away to the surface.
You emerge disturbingly close to Research Site B and hurry inside to tell the team your tale. Unfortunately everyone is too frustrated, busy trying to salvage evidence for the mission and don't have time for your "silly stories". Everyone except Shark guy, who is missing. The only hint you receive about his whereabouts comes from Prof. Hammerhead who bluntly states, "I'll tell you what I told that Shark lad, make yourself useful!"
Make yourself useful? Given his sad state when you left him, as well as his belief in the medicine man, Shark Guy could be in serious trouble! You head to the treetops and return to the Shack of the Shaman, but you're too late.
Shark Guy: "I'm not a big genius, I'm not an adventurer, I just mess things up. Like the Professor said, I need to make myself useful, which is where you come in."
Medicine Man: "Very Well."
Using the Megalodon tooth and the shark head of his costume, a potion is whipped up for Shark Guy. Before you can stop him, Shark Guy drinks the potion and transforms into a monstrous Megalodon Man!
Giant, Angry and confused, the only thing standing between Megalodon Man and the destruction of the island is you.
BOSS BATTLE: Catch of the Day!
Objective: Combining your rope and the reverse-engineered dung-scooper, you create a Rope-launcher! Now use it to tie up Meg Man before your shark-bait!
Challenge: Meg Man's charges and throws exploding potions at you! Dodge, aim your launcher and click to fire!
How to Defeat: Meg Man will break out of your first two ropes, third time's the charm!
Location: Shack of the Shaman
One you have contained Megalodon Man, the Medicine man will watch over him, informing you that the potion will wear off soon. If you go to talk to the dazed Meg Man, he will mutter something about needing water.
~
Feeling reassured, you return to Research Site B. But to your shock, now everyone is missing! You use your radio to call a team member and get the same dreadful response from each contact:
"All I wanted was some company! Now that I've got some, care to join us?"
You have to save your team from whatever that crazy caveman is planning! You can get to his hideout quickly by using the shortcut near the research facility. Once down, you have to stealthily evade the Cave Collector's Raptors to reach his main cave. The Caveman sits on a rock throne, awaiting your arrival.
CC: "Took you long enough."
You: "Where are my friends?"
CC: They are safe I can assure you! In fact, we'll be more than safe once off this wretched island!
Cave Collector reveals what's been hiding under the large leaf-blanket: A massive, makeshift drilling machine.
CC: "You all call yourselves geniuses?" For years I have been working on this little vehicle of escape! But deep inside I knew that I couldn't be the only one trapped here. Now together, we can at last be free!"
You: "You don't understand, We were on a mission!"
CC: "Why yes, a mission to escape! Let us go!"
Before you can say anything else, a raptor ambushes you, shoving you up and onto the drill. Inside, you find your team tied up as the collector assumes the controls. Using a crank to power the unstable drill, He begins to dig his way through the cave walls.
Dr. Alima: "Thank goodness you're here!"
Professor Hammerhead: "We can't leave without my apprentice!"
Dr. Lange: "We can't leave without evidence!"
Professor Pendulum: "The only evidence we have are my rock samples, which doesn't prove anything!"
Being the only free member of your team, you head to the control room to put an end to this once and for all.
Boss Battle: This is not a Drill!
Objective: The Cave Collector's drill is unstable! Take control and steer it towards the surface before you reach the ocean!
Challenge: Avoid large boulders, fossils and even pools of lava as you navigate underground!
How to Defeat: There is a meter indicating how much control you have over the drill's crank. Click and drag your mouse in a circular motion to reach full control, then use the arrow keys/mouse to steer the machine away from obstacles and up towards the surface.
Location: Under the island (Archaic Caves)
During the boss battle you and the Cave Collector exchange dialog, your poptropican explains that you can help him escape via Mew's helicopter, to which he doubts claiming you all have gone mad. After the intense tussle, the drill breaks the surface on the cretaceous coast and immediately falls apart. With everyone off, you comfort the castaway, promising that he'll soon return to civilization. But you shortly discover this may be impossible after finding giant footsteps that lead to the ocean, leaving a destroyed helicopter in its path.
The Medicine man is by the destroyed remains of your only way off the island. He explains that Megalodon Man broke free of his binds, desperate to find water. Distraught, you respond: "Now we'll never get off this island." To which the herbalist responds, "Never say never my friend, anything is possible!" Suddenly the ocean stirs, and rising from it is a real megalodon with none other than Shark guy on its back! "You're right, anything is possible!" he happily proclaims.
Ready to go home, everyone hops on the colossal shark's back, everyone except the Medicine Man who assures that he will protect the island and all the life within it for millions of years to come. The shark then swims along the surface of the ocean heading for the mainland. The mother and daughter Giganatosaurus return alongside the medicine man to give a final goodbye as you leave Dino Island.

Before you know it you are back at Sasquatch Sanctuary, arriving to a bewildered Harold Mews. Though you failed to provide evidence of the existence of dinosaurs, you achieved the ultimate goal of protecting them and their home. Mews kindly offers the Cave Collector residence in his mansion as he adjusts to modern life, to which he ecstatically accepts. He promises never to steal again, and as a token of thanks for keeping your promise, he gifts your poptropican his most prized possession from his collection: The Island Medallion.